Popular Freelancing Courses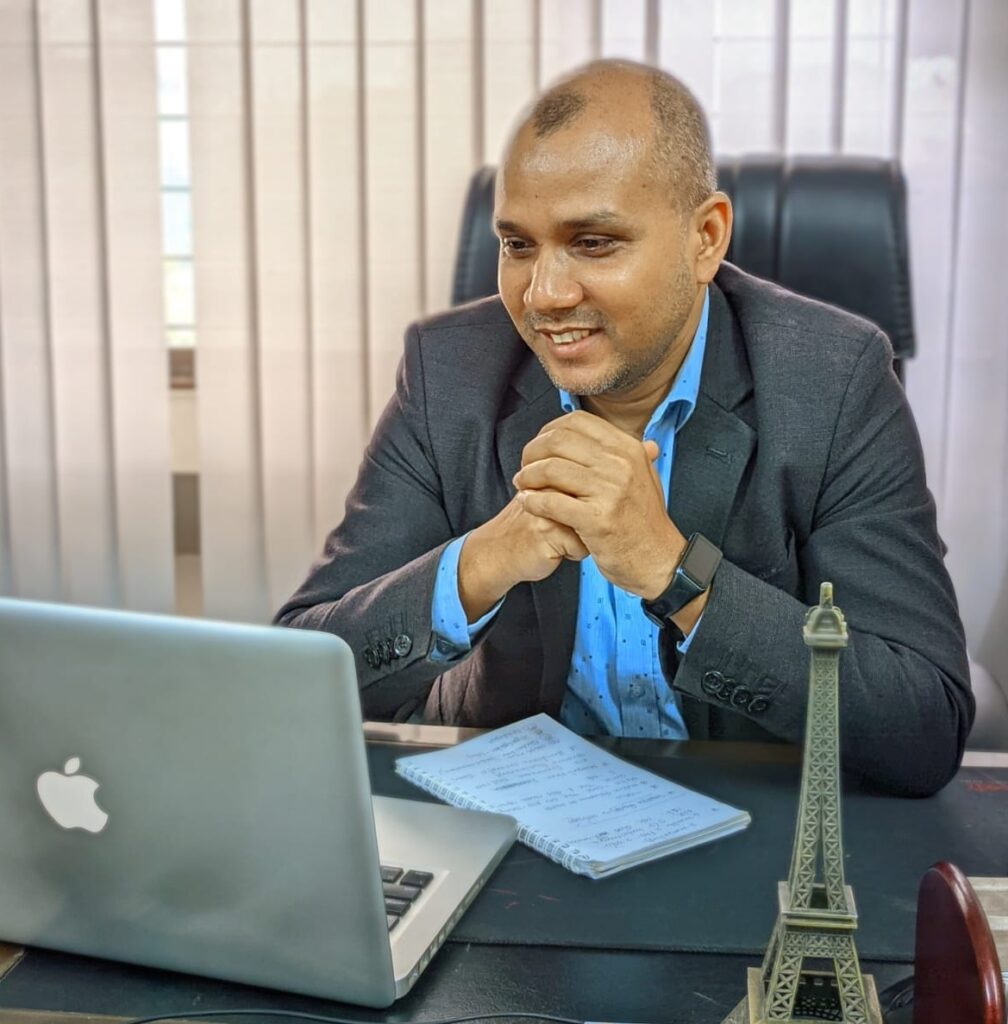 Md Shamim Hossain SEO and Digital Marketing Expert Full time freelancer at Seoclerk, Fiverr, Upwork, Peopleperhour and Freelancer. Very dedicated to help student
Farjana Sultana, Digital marketing and SEO Expert, working in Freelancing market places like Fiverr, Upwork and Seoclrk
Tanzina Annona Jui. Graphics Designer and Mentor at One direction IT, working as freelancer at Fiver and Upwork
One Direction IT Pioneer Freelancing Training Institute
Best freelancing training institute in Uttara is One Direction IT for who wants to learn freelancing and be professional freelancer.
One Direction IT is founded in 2012 by Top Rated Freelancer Md Shamim Hossain so now it has 12 years of successful IT Training history. One Direction IT is one of the oldest and most reputable Freelancing Training Institutes in Uttara, Dhaka, Bangladesh
"

Shamim Sir: A Simple and Inspiring life Story"
Freelancer Shamim Sir, CEO and Founder of  One Direction IT. Best Freelancing Training center in Uttara.Md. Shamim Hossain, but I am better known as Shamim, my birthplace is Tangail District, Kalihati Police Station, Jokerchar village.
I am currently working as CEO and Founder at One Direction IT, and I am working as a successful freelancer in upwork, fiverr, SEOclerk, Freelancer Marketplaces.
One Direction IT is providing digital marketing services worldwide and Teaching Freelancing hundreds of unemployed boys and girls  from all over Bangladesh to make successful freelancer, and earning thousands of foreign currency helping our country economically self -sufficiency since 2012.
It was very difficult to manage  and continue my institute, that time was 2012.Because then there was no one to support me, I did it all alone. I thought I must need an associate, who will give me courage, help me with selflessness and sincerity, so I decided to get married, and I completed the marriage in 2013
After marriage, the mercy of God in my life began to rain, and then, We started to move the organization together, both of us started the journey of success. At this time, we thought. There is a good future in freelancing as well, and can be a source of good income, so we started learning freelancing and working on ourselves.
 The beginning was not very difficult for us, slowly started our success, then we worked (at oDesk) that we currently worked in this marketplace, then we started working on 100% full time freelancing, excluding English and computer courses, slowly we started to teach freelancing. We started another digital marketing company abroad, and from there I worked in different countries, such as Japan, Singapore, Thailand, Lous, and many other countries.
 Alhamdulillah, Currently increasing our freelancing career is Growing up, and the success of the organization is increasing day by day, currently working for digital marketing agencies and e -commerce sites in various countries of America, Canada, Europe, and our institutions are teaching freelancing online and offline. And achieving success,
Alhamdulillah we have many students who are currently earning five to seven thousand dollars a month, the mercy of Allah that God has given me this skill, through which I have been able to make a happy life with hundreds of boys and they are able to live a happy life with their family. Mom's face is able to burst into smiles,
 Freelancing Profession is the great mercy of Allah for me, because of this profession I have achieved so fast success, and I was able to employ hundreds of people, Freelancing profession will be the main tool of our country's economic liberation in the present time and the future, because freelancing is a profession here you can work with your whole family, which is not possible from any other job or business,
Trust us, There is no possibility of losing money here but the income will be 100%
Freelancing Special Guide
I know you are interested in becoming a freelancer, hearing from others, or any social media, but you don't know how or where to do it. You are requested to visit our One Direction IT office and talk with Shamim Sir, CEO and Founder of One Direction IT, an Experienced and professional full-time freelancer who has been working as a freelancer since 2015 and is a top-rated freelancer.
You can visit our YouTube channel and Facebook page to watch our success story, successful student interviews, and live class video. We have a dedicated, experienced teacher staff to guide you to visualize all the ways and strategies and ways to become successful freelancers and earn lots of money. You will get a clear concept and practical working environment from the beginning to sending project files to the clients. You will also learn how to get clients outside of marketplaces.
Professional SEO and Digital Marketing, Graphic Design, and Professional Website Design and Development are in high demand for freelancing marketplace skills. We provide complete guidance on how to find and get freelancing jobs online. In our basic pieces of training, we identified students' weaknesses and trained them to fit for attending the main class. In main courses, we provide highly effective detail classes for each topic. Support classes are actually practical courses. Students begin to contexture ideas from the classes and then come here to make it live.
We provide efficient hands-on training, and supporting teachers are dedicated to delivering personalized help. We provide daily support, and you can communicate with our experts regularly. Students can share a lifelong networking bonding with us. So, One Direction Institute The Best freelancing training centre in Uttara can be a valuable and dependable resource for students who want to become freelancers and want to grab freelancing jobs.
Qualifications to learn Freelancing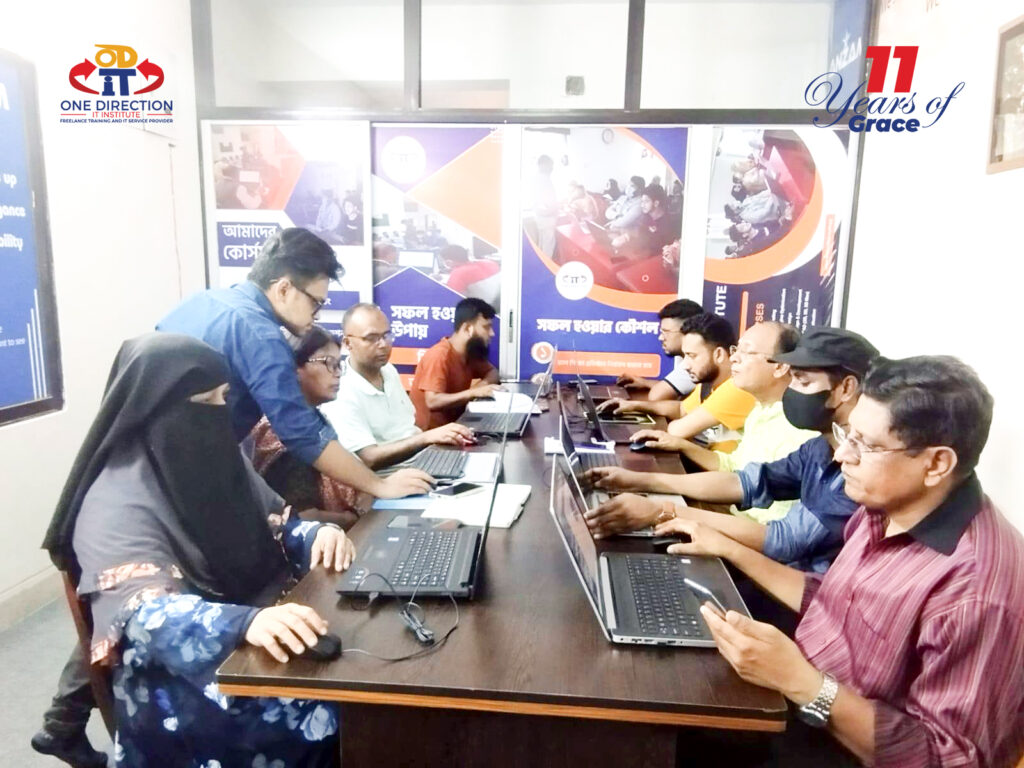 Communication Skills
Communication Skills are essential for getting more projects and clients and handling individual clients to work for a long time and earn handsome money, huge dollars. To make effective communication, you should have basic English communication skills. But do not worry; there are some helping tools to make your communication stand easy. At One Direction Institute best outsourcing training centre in Uttara, you will be trained to communicate effectively with your skills and help with tools.
Problem solving skills
Identifying the problem and finding a way to solve the problem is another skill needed for a freelancer. You should have the mindset to go through and handle any situation during the freelancing work. But do not worry; there are many tools to help in this regard, like Google, YouTube, etc, and One Direction Dedicated Professional Team.
Software Skills
Software skill is the most essential part of a freelancing career. You should have the mindset to do hard work and learn new tools eventually. In the freelancing world, technology is changing and updating daily. So, it would be best to adapt and apply it to your workflow. Everyone should follow the trends and practices to make it happen in the work path.
Time Management
In freelancing workflow, time management and self-discipline is the essential part. This type of work happens most of the time remotely, so time management is mandatory. You should train yourself to manage the time of the work. Several marketplaces offer hourly work where time management is needed.
Capacity to Analyze Concepts
Each freelancing work has different types of criteria and buyer requirements that you must understand. It can also be similar to previous work, but most of the time, it may be different. So freelancers should be able to bring out details of the concept and deal with it.
How Do Our Students Get Success?
We provide complete support for every student until they become successful as freelancers. We noticed our successful students were regular in classes and followed class very well and also did hard work to adopt this profession and become successful.
Career Placement Support Class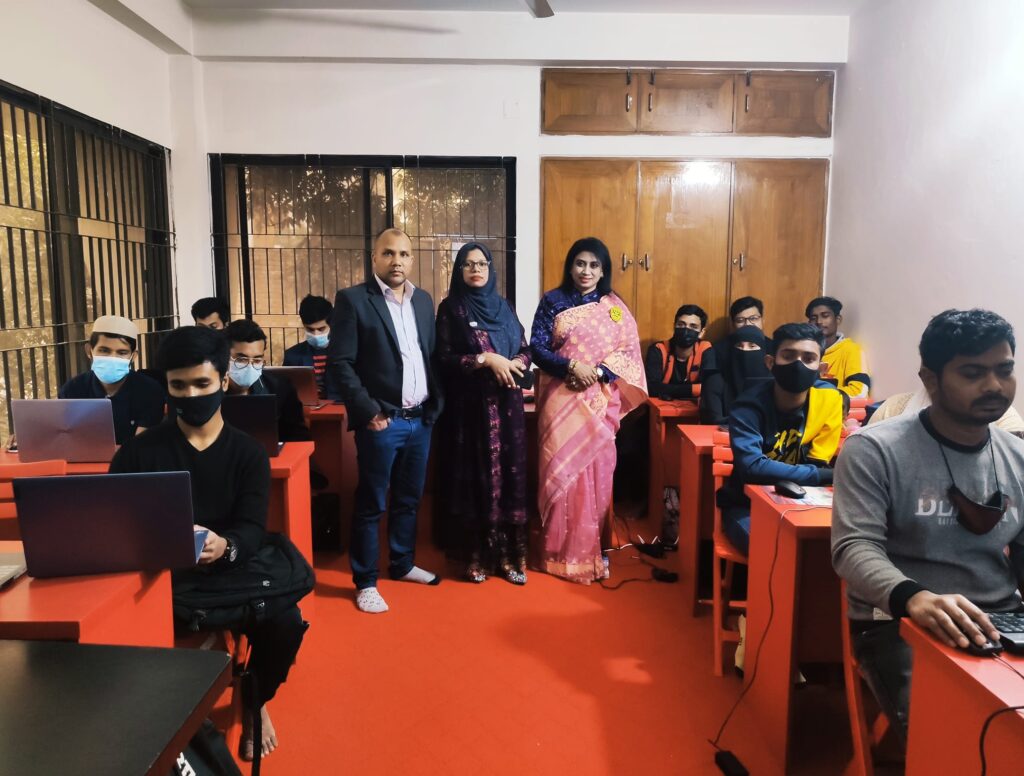 Our career placement department is dedicated to building a backbone of career foundation for each student. We run a very extensive 3 months long career placement support team class/ Pilote Support Class. Dedicated students who are really interested to learn freelancing,love freelancing careers, works, Research every day and want to earn lots of money by freelancing, can join in the classes after passing an interview. 
Lifelong Support: 
One Direction Institute (best outsourcing training institute in Uttara) students enjoy lifetime bonding and support. It is an ever-ending relationship with Teachers, students, Staff, and One Direction IT. They get 24/7 support to fix issues and help with freelancing projects and marketplaces. Our support teachers are very professional, skilled, and specialized in providing personalized freelancing-related help. We have developed a friendly, unique bond of sharing support through experiences. You must be able to grow your freelancing career quickly with assistance.
Our Support Class:
One Direction Institute provides online and offline private support classes to all students. The expert Support team is dedicated to helping you solve any issues with the freelancing career journey.
Video Class Support
At One Direction Institute, all classes are recorded and uploaded to video-sharing sites. So, any student can rewatch again and again to digest the class modules at home and find out and note down any issues to get help in the support class. It is a great source and opportunity for students who want to get more supporting sources and practice guidelines at home. It will also help new students watch earlier videos to get an idea about freelancing before class.
Our Supporting Books
One Direction Institute also provides book support to the students so that their learning path can be more comprehensive than before. There is no friend as loyal as a book. So students are learning from the classes, videos, and support classes, but we provide printed books to have it all the time with students as a friend does. So that students can feel love with it and identify all the ways and details about Freelancing marketplaces like Seoclerk.com, Upwork.com, Fiverr.com, etc. Students found in this book a detailed outline and a brief Digital Marketing and SEO strategy.
Projects Completing Support
At One Direction Institute(Best Outsourcing Training Center in Uttara), We provide logistic support to complete the projects if students get orders because when students get their first order, they become apprehensive about completing the order properly on time, so we help students to complete the project so that students can get repeated orders, repeated buyers, and good reviews. Students can prepare homework and clients' project work using this facility. Any student can grab this fruitful opportunity. It will also help to build a profitable network with each other.
Best IT Training Institute in Uttara
If you are searching by freelancing training center near me then you must find some freelancing training institute so you may find some outsourcing or freelancing training institute but One Direction IT is one of the best freelancing IT Institute in Uttara because it has 12 yeas of successful history. We are very professional, helpful, skill and have expert freelancer. Mr Shamim Hossain who is founder is also top rated freelancer working on
Upwork
, freelancer, fiverr, SEOClerk. has 500+ projects completed experience with 400+ 5 star Review.
Frequently Asked Questions